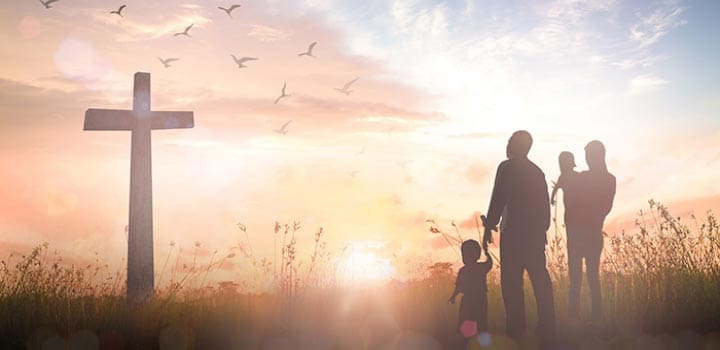 Holy Week Schedule
Holy Week begins with Palm Sunday. Traditionally, Palm Sunday commemorates the Triumphal entry into Jerusalem described in all four canonical gospels. Christ's entry into Jerusalem was noted by the crowds present who shouted praises and waved palm branches. Among Lutherans and Anglicans, the day is known as the Sunday of the Passion: Palm Sunday.
Palm Sunday: April 2
Maundy Thursday: April 6
Good Friday: April 7
Easter Sunday: April 9
Day of Pentecost
The season of Pentecost, specifically Pentecost Sunday, is when we recognize the power of the Holy Spirit in our lives and in the Trinity.
Everyone is invited to wear red to church this day as we remember the Holy Spirit descending upon Jesus' disciples.
On this Sunday, we pray that the Holy Spirit fills the hearts of the faithful, and kindles in each of us the fire of His love. We celebrate that we are also given the breath of the Holy Spirit and sent out to proclaim God's redeeming love to all the world.
Reformation Sunday
​The last Sunday of October, Reformation Sunday, is a very special day for Lutherans!  We have a special worship service that honors Martin Luther and his grace-filled ministry and revolution.  On this day we celebrate Martin Luther nailing his 95 Theses to the door of the church in Wittenberg, Germany, in the year 1517.  He stood up, and against the majority to argue that our God is a God of grace, not of good works to gain God's salvation and eternal life.
Throughout the year we preach about many things in church.  About how we live our daily lives, the choices we make, and the habits of our faith.  On Reformation Sunday, we return to the core of our faith:  God loved us first, and God continues to shower us with the grace and mercy that we receive through our faith in Jesus Christ.
Advent and Christmas
The season of Advent is marked by the weeks leading up to Christmas Eve, when we prepare to meet the Christ child.  We light the Advent wreath each Sunday as we focus on this Light of the World, the Prince of Peace, the King of Kings, the Lord of Lords, and our Emmanuel "God with us" who was born in a manger – the Savior of the world.
On Christmas Eve, we celebrate the birth of our Lord, Jesus Christ, with lots of prayers, praise and singing of Christmas hymns.  Our worship space is warm and beautifully decorated, and we would love to share it with you!  Following the service, we have some light refreshments and Christmas treats.  Everyone is welcome.